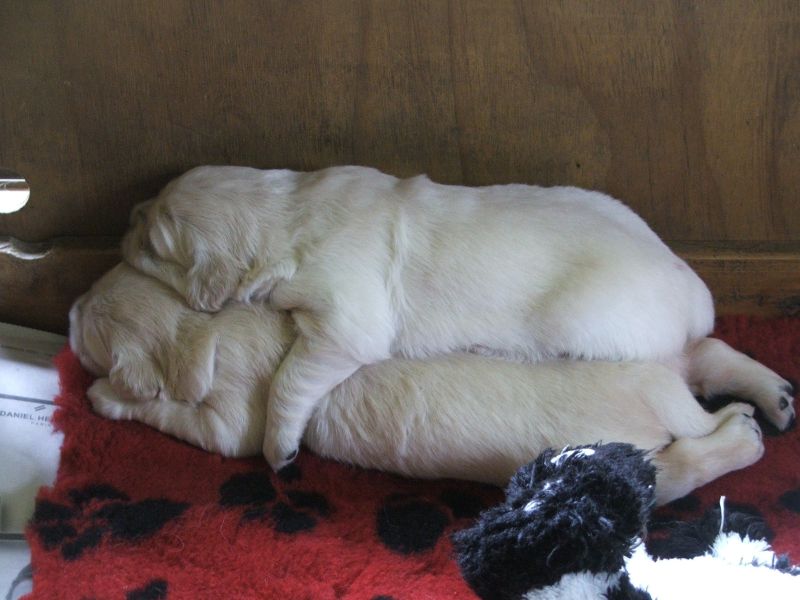 Puppies
WHERE DO YOU START?
By contacting the Central Golden Retriever Club's Liasion Officer you have already started. The Liaison Officer will provide you with a list of breeders who have litters or who have puppies due - otherwise, if you choose, they will take your name and add it to the Puppy List.
HOW DO YOU FIND "YOUR" PUPPY
You will need to have patience, do not expect that a puppy will be available immediately. Remember breeders plan litters months, an in some cases years, in advance. It is important that you get the "puppy" for you, as this puppy will be part of your family for the next fourteen or fifteen years.
We suggest attending one or two shows and observe the differences in the lines (colour, looks etc). This will also allow you to judge the temperament of the dogs and bitches on show. If there is a specimen that takes your eye, you should approach the owner and request details to enable you to contact the breeder, or enquire of any breeding plans for the Golden that has taken your eye.
WHAT YOU NEED IN PREPARATION FOR YOUR PUPPY
Fences, or at the VERY least a suitably sized run and kennel. You must ensure that your new puppy does not become the neighbourhood's problem.
Commitment and paitence. These are the most important commodities you can have - remember the more time and effort you put in the early day, the greater the reward. This goes for everything from toilet training to basic obedience training.
DO YOU WANT A PUPPY FOR PET, SHOW, AGILITY OR OBEDIENCE?
You should advise your breeder of your intentions. The most important thing of course is temperament, as you new Golden will be your pet and companion for many years to come. If you require a show or obedience puppy, then you should contact a breeder regularly involved in these disicplines, and follow their advice.
WHAT DO YOU GET WHEN YOU BUY A REGISTERED PUPPY?
Your breeder should provide you with;
a registered pedigree

a vaccination certificate with dates for your Vet to continue the vaccination program

copies of the eye test and hip and elbow score results for both parents.

a NZ Kennel Club Transfer of Ownership. This is forwarded to the NZ Kennel Club by your breeder and then an ownership paper is sent out when processed.

a detailed Diet Sheet which includes all of your puppy's needs.

general advice.
HEREDITARY DISEASES TO BE AWARE OF:
HIP DYSPLASIA
This is a crippling disease that affects most large breed.
The New Zealand Veterinary Association (NZVA) Hip Dysplasia Scheme has been operating for a number of years. This scheme is fully supported by the NZ Kennel Club and provides and examination and scoring of x-rayed dogs. All respected breeders support this scheme and will have had their breeding stock x-rayed and scored.
Your should discuss the significance of these scores with your breeder. Your Vet will provide you with a more in-depth explanation of these numbers.
OCD OR OSTEOCHONDRITIS DISSECANS
This is another orthopaedic diseases which affects either the elbow, shoulder or hock. The NZVA currently scores for elbow (OCD) as this is generally the primary place OCD occurs. All respected breeders support this scheme and will have had their breeding stock x-rayed and scored.
You should discuss the significance of these scores with your breeder. Your Vet will provide you with a more in-depth explanation of these scores.
EYES
There are many problems which affect the eyes. The Club annually holds and Eye Clinic at which dogs are tested and certificates are provided.
Examination of breeding stock should be done annually, until at least eight years of age and preferably longer, as hereditary eye problems can debelop at varying ages. The examination should be made by a Board-Certified Veterinary Ophthalmologist, who has the special equipment and training needed to properly examins the dog's eyes.
SOME ESSENTIAL 'DO'S' AND 'DO NOT'S'
Do not allow small children to 'tease' or play roughly with a puppy. Children can be very cruel, so you have to spend as much time training them as you do the pup – both have to learn to live with each other. Care in this area will be rewarded by both becoming loyal companions.
Do encourage your puppy to 'retrieve' by throwing a ball or toy, praise him when he fetches and returns it to you. Encourage him to give to hand.
Do not over exercise your puppy. Young dogs spend most of their early months growing up, bones are soft and supple. DO NOT run your dog until at least 12 months of age. Similarly, do not allow your puppy to jump great heights off verandahs, etc.
Do socialise your dog – allow him to meet visitors, to be touched, etc. Do not allow him to jump up on people – be firm but gentle.
Do not scold the puppy for chewing. The first few months are spent growing and losing teeth and as most humans know, this can be painful. Ensure the puppy has hiw own toys he can chew and make sure he knows that he can do what he wants with them. A firm "NO" when he heads for the coffee table – then stick one of his own toys in his mouth. Accidents will happen, but be patient.
OWNING YOUR NEW PUPPY
Municipal Requirements
Contact your local Council Office and register your puppy.
Feeding and Exercise
Information on these should be provided by your breeder or your Vet. It is a very important part of rearing your puppy.
Vaccinations and Worming
You will have a Vaccination Certificate from your Breeder's Vet and a due date for next vaccination and worming. Discuss any concerns with the Vaccination program with your Vet.
NZKC Membership
Should you wish to show your puppy or attend Obedience/Field Trial/Agility events run under NZ Kennel Club rules, you must be a member of the NZKC. To be a member you must be a financial member of an All Breeds or Specialist Breed Club such as the Central Golden Retriever Club Inc and applications must be made through one of these Clubs, via the Secretary.
BOOKS ON GOLDEN RETRIEVERS
The following authors offer valuable and interesting
information on the Golden Retriever breed.
Joan Tudor
Michael Twist
Lyn Anderson
Lucille Sawtell
There are many books of general interest and specialist
fields such as obedience.